Wind Tunnels
Tunnels available in both portable and laboratory configurations.  Used in:
Threshold velocity research
Determining wind generator design efficiency
Tunnels built to meet buyer's specifications
We design and construct wind tunnels to meet the specifications required in most any study or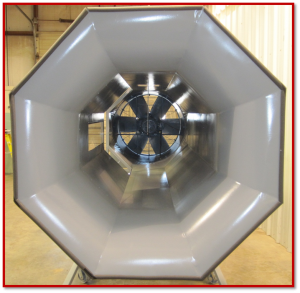 application. We pride ourselves in the quality and versatility of our tunnels, and credit much of their outstanding performance to the to our Research Engineer's wealth of experience and knowledge. While employed by USDA-ARS he designed and built numerous tunnels to meet a broad range of needs including four laboratory wind tunnels and one portable wind tunnel.
An additional portable wind tunnel was built and shipped to Tunisia where he followed and was involved in the setup and operational training of Tunisian Scientists. He also consulted with the Republic of South Africa regarding portable field wind tunnel design and usage. Since his retirement from USDA he has designed and fabricated two more tunnels for use in specialized applications, one laboratory wind tunnel for USDA for study of sand injury to cotton plants, and another laboratory tunnel for Howard College to test designs of wind generators and train service personnel.
Portable Tunnels:
Custom Products portable wind tunnels allow for on site field testing a wide range of conditions.  This portable unit was made of the University of Calgary in 2014- 2015.  The entire unit loads into a 24′ enclosed Transport/ Storage Trailer.  Loading/ Unloading is done using a 2500 lbs. capacity 12V winch and can be easily done with a 2 person team; the same goes for running test using the UCPT.  For more detailed info refer to the .pdf of the Users' Manual below.
UCPT User Manual FINALv3, 7-30-15
To get pricing on portable wind tunnels request a quote to the right or visit our in depth quote page.