VSAT
Custom Products VSAT quickly determines aerodynamic equivalent diameter of airborne dust particles. Unlike mechanical analysis methods such as the Ultrasonic sieving or laser based instruments, the VSAT does not require the sample be dispersed, passed through a vibrator, or compromised in any way prior to testing. VSAT testing can be done in as little as three minutes and requires only approximately 0.1g of sample to determine size distribution of particles between 20 and 1,000 microns; additionally, after VSAT analysis the same sample can be used for chemical analysis.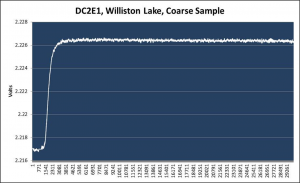 The VSAT drops sample down an aluminum tube at least 2 meters in length which requires about one square meter of space at the top and bottom to accommodate the units Balance and Release Boxes. Sample is released simultaneously from the release mechanism at the top of tube and then falls the length of the tube onto a precision load cell in the VSAT Balance located at the base. When coupled with an A/D card and VSAT software package these readings are logged and stored on a laptop computer. Using the VSAT allows determination of size distribution in samples without diminishing sample integrity prior to analysis. The instrument also has a software package for analyzing VSAT data files which determines particle fall times, size distribution, and accumulated frequency, and then presents each in table form.
As you can see, coarse and fine samples produce VSAT curves with very different characteristics. Simply being able to produce these curves gives the user very useful information about the characteristics of the sample being analyzed. Coarse samples will fall much quicker, resulting in the steep slope of the above curve.
Fine samples, on the other hand, have a much more gradual curve and may even change slop as different size particles make it down the drop tube to the VSAT balance.