Surface Creep/Saltation Sampler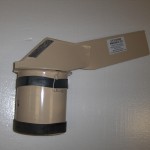 The Surface Creep Saltation sampler is a wind aspirated isokinetic sampler that samples airborne dust at the soil surface. The sampler is buried with the vertical sampling slot, the air exhaust, and the tail exposed to wind. Surface Creep/ Saltation Sampler collects a sample of dust moving over the soil surface at heights of 3mm, from 3 to 10mm, and from 10 to 20mm. Samples are collected in a divided canister with separate compartments for each height. These samplers operate at peak performance on a flat smooth soil surface. Surface Creep Saltation samplers have operated in eroding fields for months at a time with no impact to sampling efficiency. Cleaning and extraction of sample material is done via a hole drilled in the side of each compartment; when the top sampler assembly is removed the canister can be fully accessed for cleaning.
When installed in the field a hole 25 cm diameter and 30 cm deep is dug in the ground. The galvanized metal plate rests on the soil surface allowing air and dust to pass over the galvanized plate into the vertical sampler slot. Surface Creep/ Saltation Samplers utilize a unique bearing assembly which allows for height adjustments without sampler rotation being influenced by water or dust.