Soil Roughness Meter
Custom Product's Soil Roughness Meter collects transects of soil roughness via 40 pins lowered to the soil surface for each data transect and then logs and displays the data on a laptop computer shipped with the meter. The Soil Roughness Meter is available in two versions:

Manual Roughness Meter: Pins are lowered by hand until all 40 encounter the soil surface at which time the units software records the distance each travelled and stores it in the Roughness Meter Data file. The operator then raises the pin bar and advances it forward approximately 1" to the next transect. This meter may be carried and set up by one person. By driving steel support pins that each corner of the meter frame rests upon, repeated measurements can be taken at the exact same location over any period of time. A single operator can complete a full set of readings in about 30 minutes.
Automatic Roughness Meter: This unit is identical to the manual version except the instrument automated. Once the unit is setup on a test site the operator places the meter on its track at the beginning of the test area and presses "Start" on the units software program. Readings will begin to be taken as the meter raises and lowers the pin bar as well as advances itself in user determined increments; a data file is created and stored on a laptop computer for each reading line. After the test is complete the unit saves the data file and shuts itself down. Automation of the unit ensures the uniformity of data collection and drastically reduces the potential for operator error.
Custom Products Soil Roughness Meter can be transported to the field and operated by a single user. Components are packed and stored in a custom case that is easily unpacked once on location. The automatic version of the meter simplifies operation even further and removes operator inconsistency and other undesirable variables from data sets.
Custom Products Roughness Meter uses custom software to automatically record readings from each of the 40 pins, generating a soil profile that it then presents in graph form. After the desired number of data sets has been completed, Custom Products has written a data file compiler that compiles all individual data transects of data into a 3 dimensional representation of the soil surface.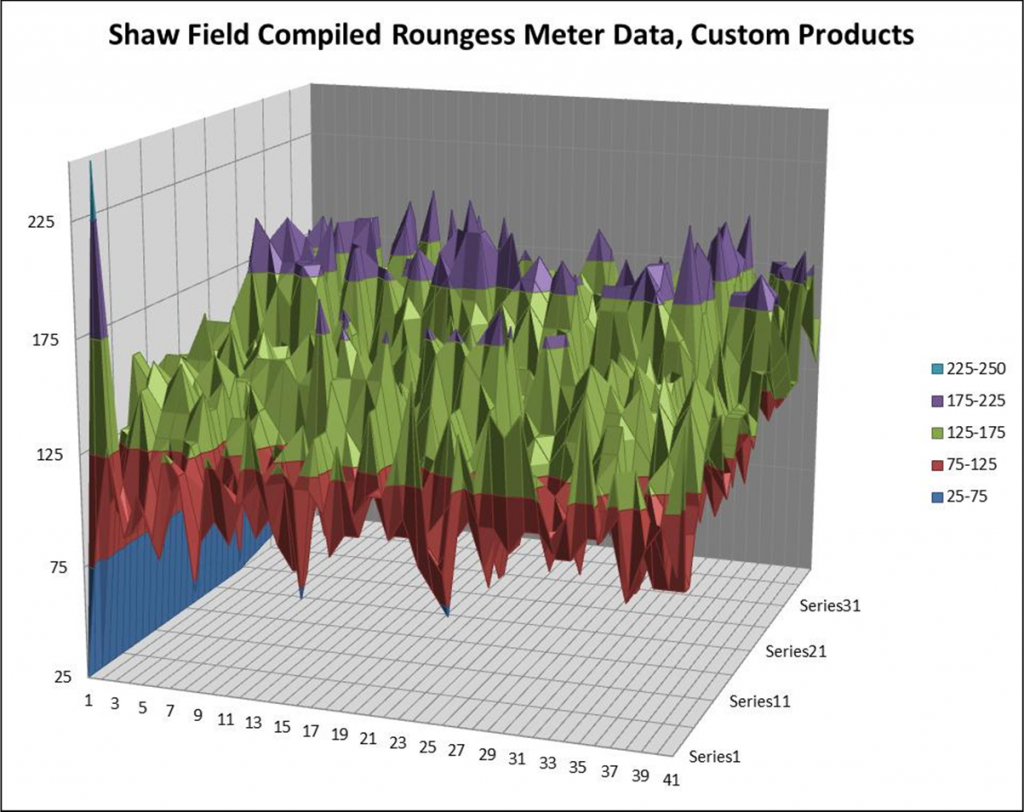 Positional stakes in each corner support the meter track can be left in place over the course of a season, allowing the user to monitor changes in soil roughness at exactly the same location.
All Roughness Meter components are housed in a custom case that is used for storage , protection, and for transporting the unit to the test site.
After Roughness Meter tests have been run all lines of data are input into a file compiler and presented in a format similar to the one above. The software gives the user many options for presenting Roughness Meter Data.