Rotary Sieve
Custom Products Rotary Sieve is based on a design by Dr. Chepil and originally consisted of 5 screens; this slightly altered sieve can operate with anywhere from one to seven screens in place. In addition to varying the mesh and number of screens, the units RPM's and the frequency of thumps delivered to jar loose organic matter and other sieve obstructions are also variable.
Screens may be customized according to the particle sizes. If a sample is predominately fine silts then screens with an opening less than 0.42 mm may be used. Coarse sands larger than 0.84mm can be sieved using a larger mesh screen. Custom Products Rotary Sieve entire screen assembly may be changed in less than 15 minutes.
Sample feed rate is controlled via an electronic vibrator coupled with a variable frequency controller; the motor drive shaft is directly coupled to the screen assembly to provide uniform, smooth rotation, and to eliminate belts and chains. Custom Products can fabricate standard sieves as well as custom sieves. If a custom sieve is desired please provide Custom Products with the desired number and mesh of screen.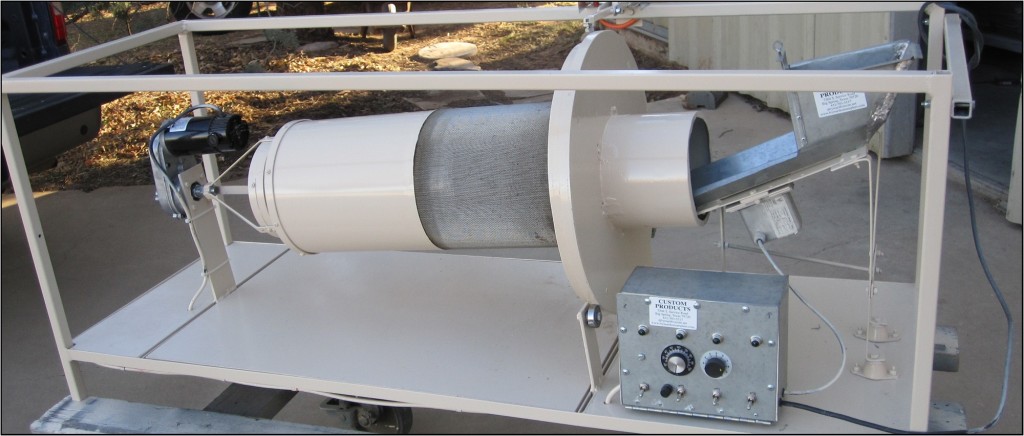 Custom Products Rotary Sieve is an extremely versatile unit that can have its sieving screen changed out, as well as the RPM, thumper frequency, and feed rate adjusted.