Remote Weather Station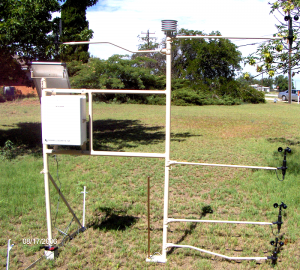 Custom Products Remote Weather Station allows the operator to set-up a fully wired, functional weather station in under 30 minutes. Typically, a station consists of four anemometers, sensors to record wind direction, air temperature, relative humidity, rainfall, and solar radiation; a data logger is used to record data from the Weather Station and can be powered via solar panel and battery backup. Compatible sensors are wide ranging, depending on user objective, these may include a SENSIT for detecting sand movement. Wire is ran inside of the steel frame of the stations, protecting it from the elements and wildlife. Custom Products Remote Weather Stations are shipped calibrated, tested, and ready for deployment.
The "H" frame design allows installation on sloping sand dunes or uneven surfaces. The REMOTE WEATHER STATION and instrument package have remained operational through conditions including -300 F temperatures, 60 mph winds, three feet of snow, 30" of water, and 33 severe dust storms. These rugged units allow continuous acquisition of broad ranges of data in almost any setting.
Custom Products Remote Weather is constructed to minimize wire exposure to elements and wildlife, almost all of its wiring is housed inside of its steel pipe frame.
A wide range of sensors can incorporated into the Remote Weather Station. Some commonly used data acquisition sensors include anemometers, wind directional , rain fall, temperature and humidity, as well as the Sensit. These units are shipped with all instrumentation pre wired and tested before leaving the factory. Custom Products Remote Weather Station design minimizes set up time.