DGASS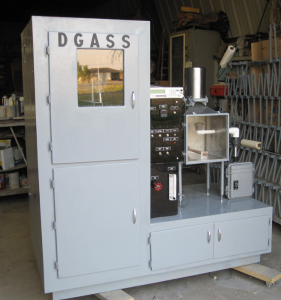 Custom Products DGASS, (Dust Generation Suspension Analysis System), is used to study fine particle emissions from soil samples. The DGASS consists of an Oscillating Tube, Cyclone, and Settling Chamber, all made of stainless steel. Design of the Oscillating tube and Settling Chamber allow for quick and easy cleaning; DGASS is designed so the same vacuum used for testing can also be used for cleaning. DGASS air flow rates are adjustable, as is the frequency of the Oscillating Tube rotation. Run time is entered into the programmable timer of the DGASS and after this time elapses the timer automatically shuts off the system vacuum and stops the Oscillating Tube.
Components unique to the DGASS include its inverted settling cyclone which removes large particles. This cyclone style separator produces very good results with extremely even distribution on its settling floor as seen in the central photo. In addition to its optimal performance this style of separator allows for the canister to be removed for easy cleaning.
DGASS components are made of stainless steel to ease cleaning and avoid sample contamination.
Custom Products DGASS is largely automated, simplifying removal of fine sample during cleaning by allowing the user to switch the same vacuum used for testing into cleaning mode and clean the unit. The unit is very quiet and compact. RPM, flow rate, test length, and time period between 180 degree rotations are all use configurable from the control panel.