BSNE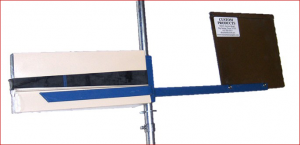 Custom Product's BSNE dust sampler is an isokinetic wind aspirated sampler that collects 95% of airborne dust that enters the opening regardless of wind velocity or direction. These rugged and economical samplers are used the world over and have earned a reputation as reliable, simple, and dependable. BSNE's rotate around a mounting pole to orient according to wind direction and will operate at any height above 15 cm. BSNE's have been deployed in extremely harsh, remote locations for periods as long as three years, and have remained operational with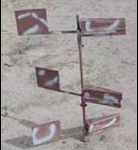 very little maintenance. With minimal care, the BSNE will operate for many years.
3 to 5 BSNE's can be mounted on a single pole to obtain vertical distribution data. From this multiple height data vertical distribution of airborne dust can be mathematically described and total quantity of dust being transported at that location determined. From the total transport, erosion or deposition can be computed. BSNE's require no external power source of any kind.
The BSNE sampler is widely used in the USA, on every continent and is the standard sampling method for collecting airborne dust.
BSNE Dust samplers are often deployed in conjunction with Sensit samplers. By coupling the two units the user is able to log BSNE vertical distribution mass data, as well as particle counts and kinetic energy of particle impacts.
BSNE are often used alongside weather stations and often in conjunction with Paul Stockton's SENSIT, click the link below to learn more.