Aeolian Sampler
Aeolian Samplers collect fine material as it settles out of the air.  These units are ideal for measuring levels of accumulation on flat surfaces in fairly calm locations such as solar panels.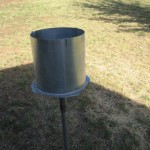 These samplers sit atop mounting poles which are cut to buyer specified lengths.
Like the BSNE, they require no external power source and are exgtremely rugged.
Reliable, low maintenance sampler.
Sample collection and cleaning are simplified by the sampler's removable screen and easy removal from mounting pole.
Please contact Custom Products for additional information on the Aeolian Sampler or additional products & services.