Donald "Bill" Fryrear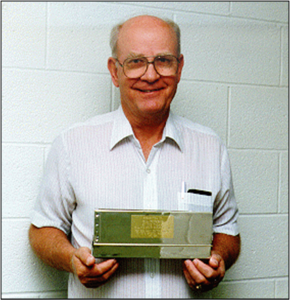 Donald Fryrear grew up on a dryland winter wheat farm in Northeastern Colorado where he learned first hand the importance of water conservation and the need to control erosion. After completing his education, he conducted research on water conservation and on water erosion control systems in Colorado, Kansas, and Texas.
After arriving in Big Spring, Texas he was in charge of the research program on wind erosion and dryland crop production systems. He developed methods for estimating crop damage by wind erosion to determine if and when damaged crops should be replanted. From this research the acreage replanted declined from 75% in 1965 to less than 25% in 1998. He determined the impact of tillage and crop rotations on water utilization and wind erosion. He designed and built five laboratory and two portable wind tunnels to study wind erosion control parameters. From these studies he could identify the most effective systems for controlling wind erosion in a semiarid region with sandy soils.
His results minimized production cost, enhanced dryland crop yields, and effectively controlled erosion with the available resources. He also recognized the need for equipment to measure wind erosion in the field. He developed the BSNE dust sampler that is currently used world wide to collect samples of soil being transported by wind. The BSNE sampler results revealed major errors in previous models used in wind erosion science. He coordinated the development of the Revised Wind Erosion Equation (RWEQ) that contains new technology for estimating wind erosion and evaluating wind erosion control systems. He also developed the Vertical Settling Aerosol Tube for determining particle size distribution of very small samples of airborne materials.
He has authored or coauthored over 120 publications on erosion and dryland cropping systems.
Because of his research accomplishments, Donald Fryrear is recognized as an international authority on wind erosion control systems. In addition, he was selected by the USDA to lead the effort and co-chair the development of the RWEQ, which was completed in 1998. This wind erosion model can be used to provide accurate estimates of wind erosion losses from typical farming systems throughout the entire United States.
Examples of his international stature include consultation with the UNESCO project in the Ben Gordane region of Tunisia in 1980 and 1983. He constructed a portable wind tunnel, traveled to Tunisia to set it up and trained Tunisian scientists on proper operation techniques. He designed a wind erosion research program for the scientists in Tunisia.
Other work and distinctions:
Served as a USDA consultant to the US-Mexico Arid Lands Management and Desertification program in 1980 Served as a wind erosion specialist for a US-INDO Arid Zones research advisory trip in 1984 to Judphar, India.
Invited to consult with South African wind erosion scientist in 1985. Mr. Fryrear traveled to South Africa, made recommendation on their wind tunnel and field research programs.
Was the US-wind erosion expert on USAID-ICARDA-USDA-ACSAD projects in Near East Region in Amman Jordan, 1986.
Appeared before House Agriculture Subcommittee on Conservation, Credit, and Rural Development to discuss wind erosion control systems in 1987.
Consultant to Morocco wind erosion prediction project in Rabat Morocco 1991-1994.
Invited by UNEP to consult with Chinese wind erosion scientists in 1993. Went to Lanzhou, China in 1995 to be key speaker for UNEP wind erosion training program.
Consulted with Chinese scientists and toured wind erosion sites in 2000.
Currently lead scientist on an US-Egyptian wind erosion project in the Northwest Coastal Zone of Egypt.
He designed the study and selected the sites from which to collect field data to test the RWEQ in Egypt.
Invited as the keynote speaker to the European Conference on Wind Erosion in April, 2001.
He has presented his research results in meetings in Syria, Hungary, Austria, Egypt, Germany, Spain, Italy, Niger, Mali, and Mexico.
Education
A.A. Pre-engineering, Northeastern Junior College, Sterling, Colorado
B.S. Agriculture Engineering, Colorado State University
M.S. Agriculture Engineering, Kansas State University
Experience
1959-60 Agriculture Engineer for water conservation, USDA-ARS Akron, Colorado
1960-62 Agriculture Engineer for wind erosion, USDA-ARS, Manhattan, Kansas
1962-65 Agriculture Engineer for water erosion, USDA-ARS, Temple, Texas
1965-98 Research Agriculture Engineer and Research Leader for wind erosion and dryland cropping, USDA-ARS, Big Spring, Texas
1998-present Research Agriculture Engineer and Consultant for Custom Products & Consultants.
Awards and Distinctions
Moore Development Board Certificate of Recognition 1999
Martin County Cotton Growers Award for Dedication to the Stewardship of American Farmers and their Natural Resources 1998
Texas Agricultural Extension Service Exemplary Leadership award 1997
Lamesa Cotton Growers Award for Outstanding Support and Assistance 1996
ASAE Certification of Appreciation 1996
USDA Certificate of Merit 1994
American Society of Agriculture Engineers Honor Paper Award 1992
Merit Award, Colorado State University 1985
Fellow of Soil Conservation Society of America 1982
Recognition Award from Texas Chapter ASA 1978
Howard College Agricultural Club Appreciation Award 1977
Smith Leadership and Scholastic Award 1956